Conclusion of MOU with the University of Calgary, Canada
---
Nagoya City University and Chukyo University have concluded Memorandum of Understanding of for academic and research collaboration with the University of Calgary, Alberta, Canada. It is the result of the two universities' joint visit to the University of Calgary in summer of 2019
The collaboration will be expected among three universities in the subjects of "Sports and Brain Science", "Sports Medicine" and etc.
*Nagoya City University and Chukyo University have had Comprehensive Cooperation Agreement since 2018 to promote the collaboration and contribute to the academic, industrial and human resource development. Two universities held the joint symposium and started the project of NCU Library and Information Processing Center based on the agreement.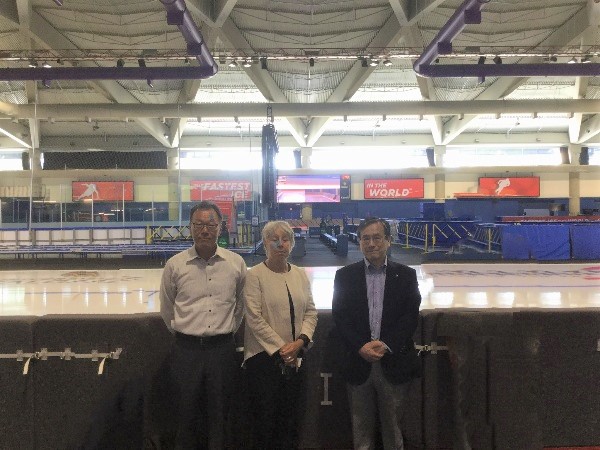 From left to right, Dr. Yukio Oida, Chukyo University, Dr. Penny Werthner, the University of Calgary, and Dr. Yuji Imaizumi, Nagoya City University at the Oval, University of Calgary in 2019
Outline of the University of Calgary
Founded : 1966
Location : Calgary, Alberta, Canada
Chancellor : Deborah Yedlin
President : Edward McCauley
No. of Faculties : 14
No. of Students : 33,000+
Others :
1. The research in sports science is rated as the best in North America and 11th in the world. (ARWE, 2020)
2. The Hotchkiss Brain Institute (HBI) is an internationally recognized centre of excellence in brain and mental health research and education, based at the Cumming School of Medicine.
3. The Oval was used as the venue of 1988 Winter Olympic Games and it is currently an important and integral part of Faculty of Kinesiology.